More effectively track your dynamic cloud assets with Cloud Connectors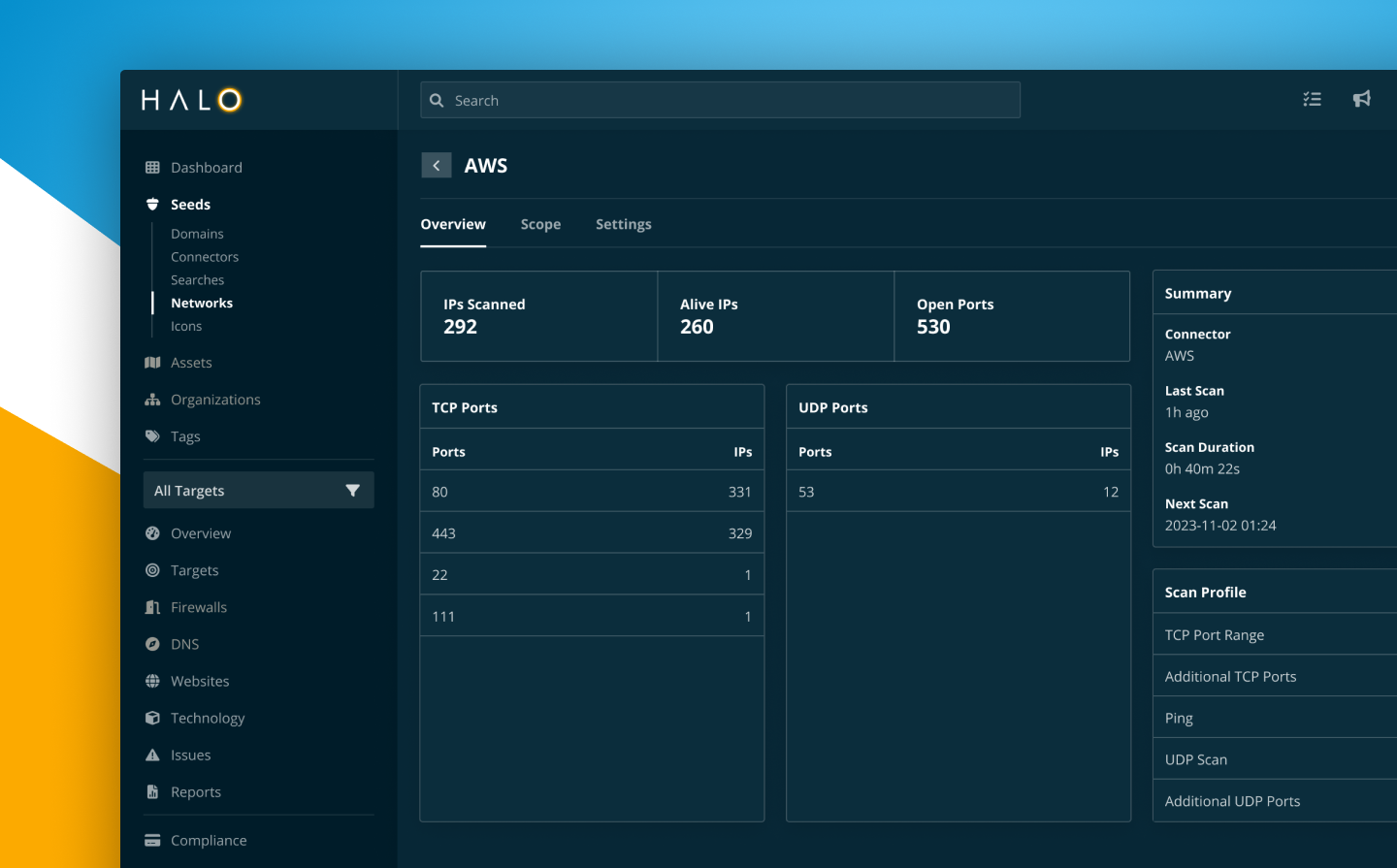 We're pleased to announce some major improvements to our Cloud Connectors. These integrations allow you to easily pull information into Halo Security from your cloud providers, like AWS, Azure, and Google Cloud Platform.
With the latest update, Cloud Connectors automatically receive additional network layer discovery. The network discovery tracks the IP addresses and open ports being used within your cloud environments. We identify the IP addresses and ports that are publicly accessible so you have better visibility into what an external attacker can see. This proactive monitoring can help you identify and mitigate accidental exposures and easily monitor dynamic IP addresses and ephemeral assets.
Key Use Cases
Halo Security's Network Discovery feature is designed to help in two primary scenarios:
Elastic Networks: When your resources frequently expand and contract to meet evolving business demands, maintaining an up-to-date inventory of your exposures can be a challenge.
Dynamically Assigned Resources: In situations where cloud resources receive dynamically assigned IP addresses, it can be difficult to maintain an accurate inventory and a clear view of your security posture.
In both of these scenarios, proactive monitoring of internet-accessible IP addresses and open ports within the Halo Security dashboard empowers you to enhance your understanding and fortify your defenses, ensuring a more comprehensive grasp of your true attack surface.
Getting Started
If you've already integrated your cloud providers with Halo Security, you don't need to take any additional action. This new feature is automatically available in the Network Seeds section of the Halo Security platform.
If you haven't yet connected your cloud providers, now is the perfect time to do so. We currently support the following cloud platforms:
Amazon Web Services (AWS)
Google Cloud Platform (GCP)
Microsoft Azure
Cloudflare
GoDaddy
Custom HTTP locations
Connecting to your providers is simple and helps ensure better visibility into your full attack surface.
We look forward to your thoughts and feedback on this new feature. Please don't hesitate to reach out to our support team with any questions or suggestions.